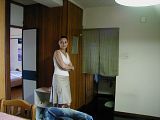 I uploaded some pictures of our apartment to Kodak's EasyShare Gallery, so you guys can finally see them.
This link should take you there
! Note that you do not need to sign in, just click on the picture.
I will share more photos as I have time to put them up, and future blog entries will have pictures linked right into the text.